---
I'll let you all in on a little secret. As much fun as it is to stay healthy through the holidays, I definitely am not stuck on eating totally "clean" on Thanksgiving Day. It's not my plan at all, actually. That being said, I do think it's super helpful to keep things in moderation and to create a plan. Eating everything in sight isn't going to leave you feeling good the next day. However, bringing a healthier version of your favorite dessert, should definitely be on your to do list.
In the spirit of nutrient density, health, and trying new things I thought it'd be fun to round up some of the tastiest clean (or close to it) dessert recipes I could find! In case you want to enjoy your food and family this weekend, let's try and do what we can to avoid that stomach aching and bloated feeling the next day.

Bonus Recipe: Apple Cranberry Sweet Potato Bake
I'm breaking all the "rules" and starting today off with my bonus recipe for you all. This first recipe technically isn't "dessert", but it is delicious and sweet and sweet potatoes + apples basically equal dessert. It's a beautiful and tasty paleo option that I wanted to make sure you got on your table! This combo of real ingredients can't be beat. Check out this yummy recipe by Steph over at Stupid Easy Paleo  and go write it into your list of sides to make.
1. Soft and Chewy Paleo Chocolate Chip Cranberry Cookies
I mean, who doesn't love chocolate chip cookies, right? These little drops of joy would be an amazing side to bring to dinner this Thursday and they are totally Paleo. Check this yummy recipe out by Michelle over at Paleo Running Mama.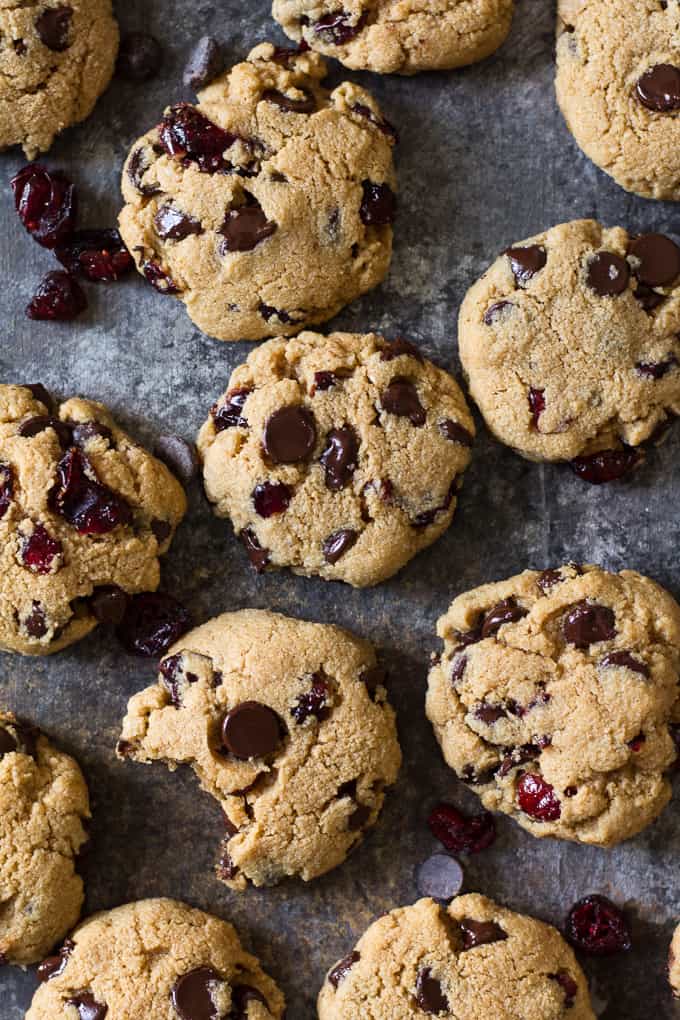 2. Pecan Pie Ice Cream
Ice cream is my favorite dessert option. I absolutely love it. Probably, because I can't eat gluten and it's a safer option for my tummy. However, there are rarely good tasting healthy options for it. UNTIL NOW. This my friends is vegan, paleo, refined sugar free, fructose friendly, gluten free, grain free. How? I don't even know how, but I mean look at that texture? Delicious. Check this recipe out by Liberty at Home Spun Capers. P.S. the main ingredient is NOT bananas. Enjoy.
3. Pumpkin Vegan Creme Brulee + Salted Caramel
Your mouth should be watering right now just from that title. I mean wow! Salted Caramel is my favorite thing. Please go check this yummy recipe by Lauren at Wicked Spatula out. Plus, you get to use a kitchen torch.
4. Thanksgiving No Bake Chocolate Caramel Torts
Possibly my favorite part of this recipe is the fact that is it NO BAKE. We recently moved, and though we have the largest and nicest kitchen we have ever had, it's not huge, and our oven is fairly small. The less I can make ahead and not use an oven for the better. And look at that GOOEY caramel center! Yum! Check out this paleo recipe that involves zero baking time by Julie at PaleOMG.
5. Paleo No Bake Pumpkin Pie Bites
Did I mention I love the "no bake" idea? Brilliant. These can be made 5 or so days ahead of time and then enjoyed without any stress for dessert. They are small little bites, so you won't get stuck overloading your plate. This is exactly what I want for Thanksgiving. Please, go check out this paleo recipe by Meg from With Salt and Wit, right now.
6. Salted Caramel Pecan Pie Tarts
Ladies, did I mention I like salted caramel? And these lovely little delectables are made in a blender. Amazing news, right? This is exactly why I need to get me a Vitamix! Go check this gluten free, grain free, dairy free, refined sugar free recipe that Liz from Sprouted Routes created.
7. Paleo Maple Pecan Apple Crisp
Apple Crisp is a classic that just can't be left out of any Thanksgiving gathering. Try this lovely paleo recipe by Amy at Paleo Running Momma out.
8. Baked Pears with Walnuts and Honey
Skinny Taste never disappoints me! Check out this yummy light recipe for really anytime this fall over at Skinny Taste. http://www.skinnytaste.com/baked-pears-with-walnuts-and-honey/
9. Paleo AIP Applespice Cookies
Any autoimmune protocol friends out there? It can be so tricky to do holidays when you are AIP, but I've found this lovely blog with tons of resources just for you. Go check this yummy cookie recipe by Our Grain Free Life and be sure to make some for your gathering. http://ourgrainfreelife.com/2016/10/paleo-aip-applesauce-spice-cookies/
10. Gluten Free Dutch Apple Pie
Seriously, just go check this recipe out. It looks amazing. The bottom is a buttery gf pie crust and the top is this yummy golden crumbly topping! Gluten Free On A Shoestring has some delicious recipes for all us gluten free and celiac people. http://glutenfreeonashoestring.com/gluten-free-dutch-apple-pie/
11. Pumpkin Spice Cake with Maple Frosting
I tend to avoid baking since I'm gluten free, but this recipe is spot on and I mean, maple frosting that is also vegan? This recipe has to be one for those of you avoiding refined sugars, dairy, and gluten. Check out Amy's masterpiece over at her blog Amy Green.
There you have it — 11 tasty recipes that won't leave you with regrets the next morning.
Do you have a favorite healthy recipe? Share it with us in the comments!